Every so often I will be posting under the 'Derailed' heading. This is for posts that are outside my normal comfort area…indie rock/pop.
There are so many flavors of metal now.  I'm sure there were back in the mid-80's as well, but back then I just knew I liked heavy metal and didn't realize that Iron Maiden was part of the New Wave of British Heavy Metal and that Anthrax was thrash and Guns 'N Roses were hair-metal.  I just knew I liked it loud!
Now I am sifting through all this modern metal and finding that there are certain subgenres that appeal to me more than others.
Progressive Metal is probably my favorite so far.   I have always been a big fan of Tool and early Queensrÿche, so I think that created a base for me here.  These bands create more melodic metal and their songs seem to tell a story.  You can actually understand a lot of what these bands are singing about.  I do prefer my progressive metal with a 'sludge' feel to it; preferably 'southern sludge' like Mastodon and Baroness.  There are some post-metal bands that I am liking as well.  I'm not really sure the difference between progressive and post– except that some of the post-metal bands are instrumental.
Hardcore is probably my next favorite subgenre.  The reason for this is obvious. I have always liked hardcore.  Bands like Fugazi, Suicidal Tendencies, Minor Threat and Black Flag have always been a part of my life and new bands like Fucked Up have caught my attention over the past few years.  Now there are bands like Converge, Doomriders and even Kylesa (in a sludge way) making some modern mosh-pit soundtracks that would make Henry and Ian proud.
After that, we get into Death and Black Metal.  I like both of these styles, but not all of it.  There is some black metal that makes me feel like I'm shoving an icepick into my temple and there is some death that just makes me want to die.  I can't tell you what aspects of these particular bands make the difference.  For example, I like Wolves in the Throne Room, whom just might be the screechiest black band I've listened to.  But I can't get into Immortal or Marduk (at least based on their newest releases).  It just rubs me the wrong way.  Then with death, I like the deep growls, I like the extreme speed and the blast beat drumming.  But I need something else.  I need the band to be unique in a way.  Mix it up a bit.  I am getting into Nile after quite a few listens because they have a unique style and I like the Egyptian mythology themes.  I like Insomnium because they add melody into the mix.  I am not liking Behemoth or The Black Dahlia Murder (once again, based on newest releases) or many of the other death bands that I've heard because it all sounds the same to me.  I am noticing my black and death metal need an melodic, symphonic or atmospheric feel to them (but then again, Nile is brutal and has none of this).  I will let you know more as I figure it all out.
Doom.  It all depends with doom.  With doom, it's really the music.  Most doom albums only have growls or chants, there are no real lyrics.  So if the music moves me or creates a mood I like, I am into it.  If it does not, I usually won't get past the first 15 min song.  So far I am liking Ahab and Om and not liking Sunn O))) or any of the drone/doom bands…boring as hell!
Classic metal, thrash, alternative metal, etc.  These are the bands making music in the style I used to listen to. You would think this would be my #1 subgenere. Just good ole heavy metal!  The metal I grew up on.  But it's not.  I have  listened to the new Slayer, Megadeth, Sepultura, Kreator and even Queensrÿche albums and they are actually very good albums, but I would much rather listen to Hell Awaits, Peace Sells or Chaos A.D..  I have listened to Crescent Shield, The Sword and 3 Inches of Blood, and once again, as much as I like these bands (and The Sword is great live!), I would rather go back to my old CDs.  Nothing wrong with these bands or albums..just arn't as good as the real thing. (that being said, the new Alice in Chains is great and the new Slayer and Megadeth are good…best in awhile!)
Grindcore.  I should like this.  It's also got roots in punk.  But I don't.  I have listened to Pig Destroyer, Napalm Death, The Red Chord and others and I just don't like it.  It's all over the place and I don't know what to do with myself when it's coming out my speakers.  I think I am giving up on this subgenre early in the game.  Just can't do it.
So, that all being said, here are 8 more album I can recommend.
ChthoniC – Mirror of Retribution
A Taiwanese melodic/symphonic black metal band.  This is a perfect example of a black metal band with something unique.  They incorporate Asian elements into their music, including an Erhu, which is a type of Asian violin.  I have read that some of their earlier  work was in Taiwanese, Japanese or Classical Chinese, but this album is in English.   This is not an album I can listen to all the time, but when I'm in the right mood, it hits the spot.  (thanks Chang!)

Insomnium – Across the Dark
A Finnish melodic death metal band.  I liked this album on the first listen.  It is definitely a death metal album, but it has melody, great production and a heavy, depressing feel to it (not unlike doom).  This one is for dark, snowy days. (thanks Chang and Gengi!)
Across the Dark clips (via lala)
Isis – Wavering Radiant
These guys are from Boston but live in L.A., and if it weren't for Aaron Turner's occasional jaunt into growls, I would not consider them metal.  They do have a sludgey feel to them, and sometimes they break into standard metal music, but the majority of the time they remind me of Tortoise, Mogwai or Explosions in the Sky (one of my favorites).  They are metal though.  They fall into the subgenres of post-metal, progressive, sludge and a lot of gray areas in between.  This album is full of sprawling songs, with an average runtime of about 7 mins each.  These songs build from simple ambient-like structures to full-on metal songs and then back into instrumental shoegazey soundscapes.  It's an album I like to have on in the background…which is not something you can say about many metal albums.  This is another album that crossed over into the indie rock world, with Pitchfork giving it an 8.5.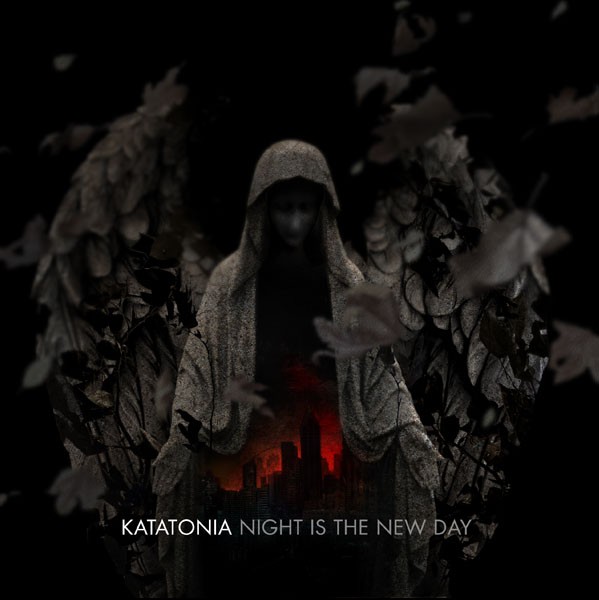 Katatonia – Night Is The New Day
This Swedish band could almost be listed under 'guilty pleasures'.  Compared to everything else listed on this entry, this could be considered soft rock.  Sure, the music has a dark, ominus tone to it, but the vocals are clean.  You can understand every word Jonas Renkse sings.  And he does sing.  No growling or screaming on this album.  I guess he used to, but he has some type of medical problem that prohibits him from gutteral sounds now.  They now sound a little like recent Aereogramme.  Suprisingly this album was listed towards the top of most of the Best of Metal 2009 lists I read.  Suprising because it is so mellow, melodic and did I say mellow?  I like it though.  It's metal you can play without pissing your girlfriend off.  They say these guys are doom metal, but that had to have been past releases…this album is alt metal at best.   This is a good stepping stone into metal if you are an indie (or even Top 40) kid.
Night Is The New Day clips (via lala)
Nile – Those Whom the Gods Detest
This South Carolina-based band is probably the hardest I have listed.  This is death metal, brutal death metal.  This is not an album to be taken lightly.  The theme is Egyptian mythology.  When I first listened to this album I didn't get it.  I didn't get past the first couple songs.  But then it came on my ipod while I was driving and I listened to it all the way through before I realized I was actually into it.  This is not for headphones or a casual day around the house.  This is driving music.  It's loud music.  It's scary.  I am going to see them later this month and looking forward to having my eardrums blown out.

Paradise Lost – Faith Divides Us, Death Unites Us
This British band reminds me of the music I listened to in the 80s and early 90s.  Maybe it's because they are British and remind me of all those NWOBHM bands.  But they do not sound dated.  This is very modern music.  They call it gothic metal, which makes sense.  It is very dark, but the vocals are mostly clean.  From what I have read, these guys evolved from a doom/death beginning into what they are today.  This is one of my favorites so far.  It strikes a perfect balance between the elements of metal I enjoy. (thanks Chang!)

The Devin Townsend Project – Addicted
Devin Townsend is a Canadian artist that produced music under many different names.  His newest 'project' will be in the form of four albums.  This material was written when he was on hiatus and giving up drugs and alcohol.  The newly sober Townsend released the first two albums in 2009 and will release the next two in 2010.  Ki was the first and Addicted was the second. I have listened to both and Addicted is definitely the better album.  This album takes 'progressive' to a whole new level.  This is a metal record, but it includes electronic elements, swirling choruses (some from Anneke can Giersbergen,who has an amazing voice!), and just an all around huge sound that brings you along on a  journey worth taking.

Sólstafir – Köld
This Icelandic band personifies mental anguish.  Just listen to the title-track.  Within the nine minutes of the song, Aðalbjörn Tryggvason goes from complete misery, howling at an unjust world like someone he loves in being murdered, to complete rage…screaming at the perpetrators of the crime.  This roller coaster ride from dread to explosive anger continues throughout the album with a backdrop of some of the best symphonic metal music I have heard.   This band is supposed to be black metal, but I don't hear black elements here.  I would call this gothic or even alternative metal. (thanks again Chang!)